Become a 'ski goddess'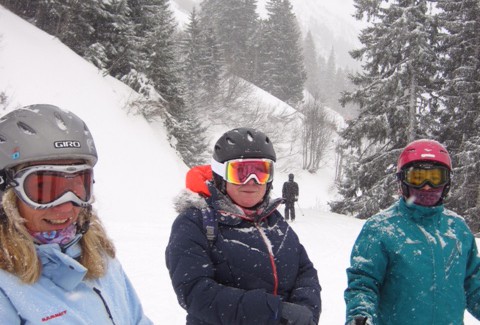 Calling all mums in need of a break… our medical advisor, Sarah Brook, has just returned from a women-only long-weekend ski course run by Ski Goddess.  But did she manage to release her inner Ski Goddess in just four days?…
Earlier this month five 'Gosport Goddesses' (aka exhausted mums) set off for Chatel, part of the Portes du Soleil ski area in France. Contrary to the dire snow reports in the press, we were fortunate enough to have a massive dump of white-stuff during our stay, and so we skied in all conditions from heavy snow to sunny blue skies, largely on powder pistes.
Our course with Ski Goddess began before we'd even left the UK, with detailed phone calls from Chief Goddess Katie to ascertain skiing abilities of the group.  There were also pre-course videos and visualisation techniques.
Katie has been teaching for 20 seasons and is a qualified Sophrologist (looking at the science of the mind in balance with the body), who teaches a variety of techniques to calm and focus the mind alongside more traditional ski training.  It's a practice which shot to fame across France and Switzerland 50 years ago when the Swiss Ski team went from the bottom to the top of the world rankings.  They won over 200 World Cup and Olympic medals in two seasons using the techniques.)
If that sounds a bit too intense for you, don't worry.  Ski Goddess tailors the courses to all your needs, whether it's improving ski confidence in general, or just a good fun non-pressurized ski holiday on gentle slopes.
As the name suggests, the Ski Goddess courses are purely for women.  Katie bases her courses on the theory that women learn differently from men; they absorb information differently; they assess situations differently; and attempt new things with a different approach, not to mention a stronger built-in instinct to protect themselves.
Of course true Goddesses like to be pampered too, and so we were accommodated in a luxurious chalet, complete with hot tub and sauna to rejuvenate our ski legs… not to mention numerous glasses of fizz brought to us by the fantastic 'chalet boy' Steve who, along with his lovely wife Pat, looked after us wonderfully.  Evening meals were included in our package (around £1,000-1,300pp).  Indeed the only extras for the whole weekend, were flights and lunches.
Each morning we were mini-bused to Chatel's slopes to spend the whole day on the piste – with a lot of emphasis on technique and consolidating the basics, before covering the miles of terrain. Chatel is a very pretty ski area with lots of tree lined skiing as well as open-piste above the tree line.
The snow conditions were amazing so at times we found ourselves skiing off-piste in thigh deep powder – something none of us would ever have imagined doing before our trip. Our skiing was videoed daily and then analysed in the evenings (after tea and cake in the chalet), with the emphasis on positive but constructive criticism.
By the end of our mini-break, we were surprised how much we'd improved, especially the less-confident skiers of the group.  We all felt reinvigorated from our mini-break in the mountains.
The Ski Goddess website claims the course is designed to "make you feel relaxed, proud, excited, happy, confident and looking forward to more".  We all agreed we'd definitely consider a repeat trip next season… if the bank balance allows.