France remains most popular skiing destination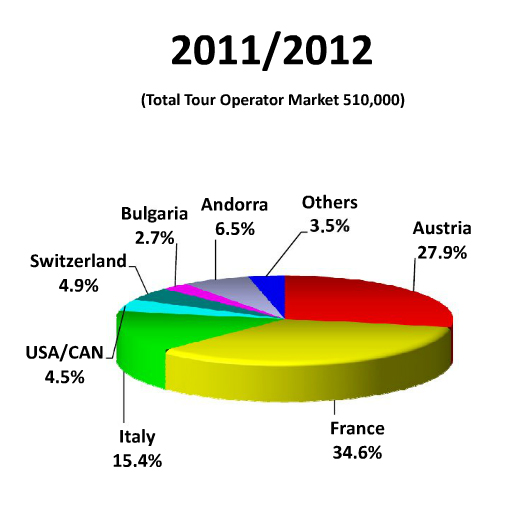 The latest Crystal Industry Ski Report, which came out yesterday, shows that increasingly Brits prefer to book a ski package holiday with a tour operator rather than booking their family ski holidays independently.  This is the fourth consecutive year of decline for the independent travel sector – caused mainly by the continuing increase in flight and ski carriage costs.
Once again France was the most popular country with British skiers, accounting for 34.6% of holidays booked in the 2011/12 season. This is an increase in market share for the first time in three years – a direct result of greater numbers booking half board options and all-inclusive packages available.
It would seem that, in these economically-tough times, more and more people are looking to buy the full package in advance – including ski hire, lift passes and fully-catered accommodation – in an attempt to reduce hidden costs when abroad. France also offers high numbers of self-catering accommodation, mirroring skiers desire for careful budgeting and value-for-money ski holidays. 
Austria's market share also rose (to 27.9% from 26.7%).  This was largely due to a rush of bookings, following the phenomenal snowfall early in the season from holidaymakers keen to enjoy the best snow conditions for decades – combined with a wide choice of good-value half-board hotel options.  
Italy's share also increased (from 14.1% to 15.4%), paralleling an increase in the level of good-value self-catering options, together with increased charter flights into Verona to feed the resorts of the Eastern Alps and especially the Dolomites.  
Andorra's market share rose marginally to 6.5%. This is the country's third year of growth, despite poor snow early in the season. Skiers are enticed here by the good quality hotels, combined with inexpensive holiday prices.
It came as no surprise to FamilySkiNews.com to see that Switzerland was less popular with British visitors last season.  Its drop in share (from 6% to 4.9%) is a direct result of the unfavourable exchange rate, further fuelling the perception that Switzerland is a high-cost holiday destination.    
North America's 4.5% share has also dropped slightly, probably due to the reduced airline capacity in some routes. 
Bulgaria also saw a fall to 2.7%.
Competition remains tough between resorts, and many are investing heavily over the summer as the fight for customers in a contracted market intensifies.  The good news for everyone looking to book ski holidays next season is that quality is key and that companies will be forced to keep their prices competitive.