Everest's deadliest day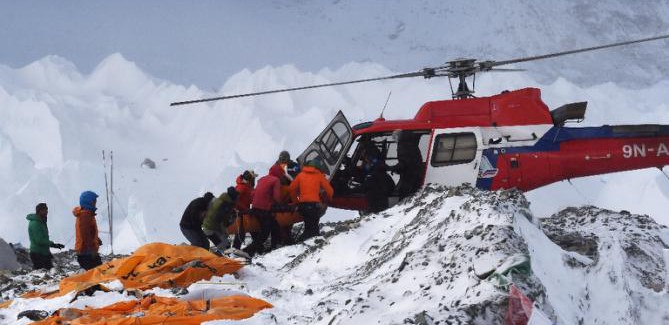 The BBC has described last Saturday, 25 April 2015, as Mount Everest's "deadliest day", when Nepal was hit by a devastating 7.8 magnitude earthquake and numerous avalanches in the Everest region near Kathmandu.
In recent years Mount Everest has become safer in many ways, with better storm forecasting and amazing high-altitude rescue helicopters.   But nothing could have prepared the many climbers on the mountain for Saturday's quake – Everest's deadliest disaster.
The avalanches have swept away vital climbing ropes and ladders.  Eighteen people have been killed on the mountain to date, and over 60 have been reported injured, in a catastrophe which has claimed over 3.800 fatalities across the region.  With many still reported missing, this morning's BBC report has speculated that the death toll may yet exceed 10,000.
Aftershocks are now hindering rescue efforts in the Himalayan nation.
The timing of the earthquake could not have been worse – right at the start of the climbing season.  In recent years, the mountain has become surprisingly congested. Currently up to 35 expeditions are organised up the mountain each year, with a possible 'fair-weather' climbing window of just a few weeks centred on May.
This weekend, 140 mountaineers were stranded on Everest above the immense avalanche caused by the earthquake.  More than 60 were injured and an unknown number are still missing.  So far at least 18 people have been killed on the mountain.
Local guide Temba Tsheri Sherpa from Dreamers Destination Trek and Expeditions described the moment the catastrophe struck: "A big avalanche came and a lot of people were washed away. There was no time."
"It so fast it was like a dream. They couldn't do anything. There was a big sound. They didn't get the chance to run away. There was no place to hide."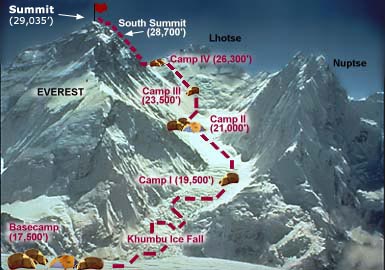 More than 100 climbers were initially stranded in upper camps one and two after the avalanche blocked the route down to base camp through the treacherous Khumbu icefall on the southside of the mountain.  Finally, more than 48 hours after the avalanche, a total of 150 stranded climbers were airlifted by a fleet of helicopters from the avalanche-devastated camps, two at a time, in a race against bad weather and time.
They included a team of 18 British Army Gurkhas, climbing Everest to mark the unit's 200th anniversary.  They had hoped to be the first serving gurkha troops to scale the peak.  They are now helping in the recovery efforts.
Ironically Saturday's catastrophic earthquake and the ensuing avalanches struck almost exactly one year after the deadly avalanche that raked Everest's Khumbu Icefall on 18 April 2014, causing the death of 16 Nepalis and numerous other injured.
As Everest receives more media coverage than ever before, it won't be long before attention focuses once more on the Everest guiding industry and the long-standing debate over the practice of constructing elaborate camps and stringing the mountain with miles of fixed ropes, not to mention vast supplies of bottled oxygen and the enormous risk to the local Sherpas and other mountain workers, so that affluent clients – many of whom have little or no climbing experience, can stand atop the world's highest mountain.
Is this form of 'fully-catered' climbing really climbing at all? Do let us know your thoughts on our Facebook and Twitter pages.
Other related posts:
Ban oxygen for Everest
Overcrowding on Everest
Indian girl, aged 13, climbs Everest
Everest's 60th anniversary celebrations
Everest record-breakers – following in the footsteps of Hillary and Tensing Norgay
Kenton's Cool Feat – first 'Everest Three Peaks'
New Mount Everest record