Ski rubbish
We've all sat on a chairlift and spotted bits of rubbish lying on the slopes as we glide up the mountainside… but how many people know what happens to the rubbish after the snow has melted. Teresa Fisher looks at the impact of skiing and what local communities are doing to improve the Alpine environment after the skiers have left.
It was on just one chair lift (admittedly a long ride), during a family holiday in Lech, that my son and I counted five odd gloves, two packets of tissues, numerous sweet wrappers, three cigarette packets, 8 plastic bottles, two drinks cans and 13, yes 13, ski poles…
It made me wonder just how much rubbish remains in the mountains at the end of the ski season.  And that, in turn, led me last month to Operation 'Montagne Responsable'.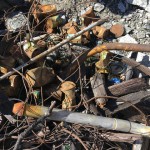 In September, employees from the British Consulate in Marseille and Crystal Ski Holidays again joined forces with the town of Chamonix-Mont Blanc, the French Alpine Club, Lafuma and other mountain-based organisations, plus a large number of volunteers to collect rubbish left by over 500,000 yearly visitors and waste from mountain installations – not just from the past ski season, but also some of which emerges to the surface after decades out of sight, as the glacier ice melts.
It was the 10th edition of the annual Mer de Glace clean-up event in Chamonix which aims to raise awareness of the need to protect the Mer de Glace glacier and our environment as a whole.
To mark the anniversary, an eco-friendly village, exhibition and workshops were open to the public to raise awareness and share best practice.  Participants and locals were entertained at the Maison des Artistes by a group of musicians who also joined in on the rubbish-collection and awareness-raising hike on the glacier.
British Ambassador to France, Lord Ed Llewellyn, said: "I am delighted to see staff at our Consulate in Marseille once again working closely with Crystal Ski Holidays and other partners, not forgetting the French authorities, to raise awareness of the importance of protecting our environment.  This is another excellent example of continued collaboration and cooperation with our *Voisins in France."
Crystal Office Operations Manager France, Catherine Allen, said: "This is now the third year that Crystal has been involved in the clean-up as for us, sustainable tourism is fundamental. Over the last ten years, over 20 tonnes of waste was collected from the glacier including a truck tyre and a Swiss passport dated 1964 – certainly one of the more unusual finds".
* Les Voisins is a British Embassy campaign  launched by the Duke and Duchess of Cambridge on 17 March 2017 in Paris which celebrates the ties that bind Britain and France. It is fundamentally about people. For further information, or if you would like to become a Voisin see: lesvoisins.shorthand.com.