London Marathon in ski boots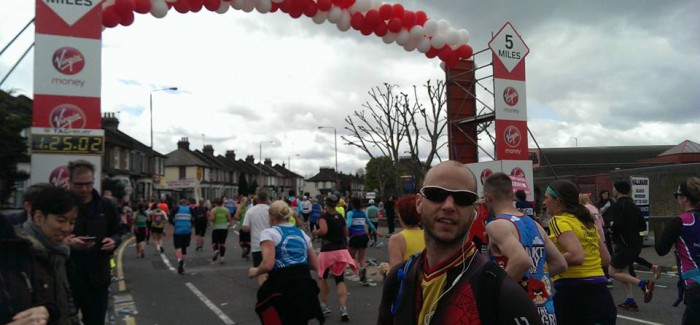 Al Machell, 36, has become the first person to run the London Marathon wearing ski boots. Now why would anyone want to do that? 
It turns out, he has a very good reason…
On Sunday, Al Machell completed the London Marathon in ski boots. It took him eight hours and one minute.  He wore a favourite 15-year-old pair of Salomon boots… as well as a Watford football shirt and a full spyder suit!
Machell started skiing when he was six and immediately loved it.  However, when he was 21 years old, he was diagnosed with a brain tumour.  After major surgery in 2001 followed by three years of treatment, he had made an amazing recovery and started speed skiing.  For a while he was in the British National Team, until a serious crash in 2011 at the World Cup in Verbier when he was travelling in excess of 100mph.
As if that wasn't enough, Machell was then diagnosed with kidney problems leading to a transplant in 2012 donated by his sister, and the end of his racing career.
The London Marathon provided the perfect opportunity to combine his love of skiing with fundraising for both The Brain Tumour Foundation and The Royal Free Kidney Patient Association.
Why ski boots?… apparently he was skiing in the Italian resort of Selva recently, where he found himself doing quite a bit of walking between lifts and his accommodation, and thought his ski boots were really quite "comfortable"!
He recounts the ordeals of his Marathon experience on his Facebook page: "I was struggling with blisters at mile 9…. I got a call from Si at 18 miles when I was really in a bad place – he told me "pain is temporary, glory is eternal!" – sounds cheesy written down but, mate, that sorted me til the end."
He continues: "The morning after the day before – Feet and legs destroyed though just about walking (that is if you can describe a series of wobbly lunges as walking)! I won't post a pic of my blisters (so as to save your lunch from reappearing) but let's just say they are fairly extensive! All the pain was worth it in the end though!"
Here at FamilySkiNews.com, we think it's an incredible achievement – especially when you consider how uncomfortable it is walking in ski boots even from the ski bus to the chalet!
We also don't think it's the last we've heard of Al. He's already pledged to do some more walking challenges in ski boots for charity.
Meantime, you can donate to his Brain Tumour Foundation campaign HERE and to his Kidney Patient campaign HERE.
Image credits: All from Al Machell's Facebook page