Aiming for a new ski world record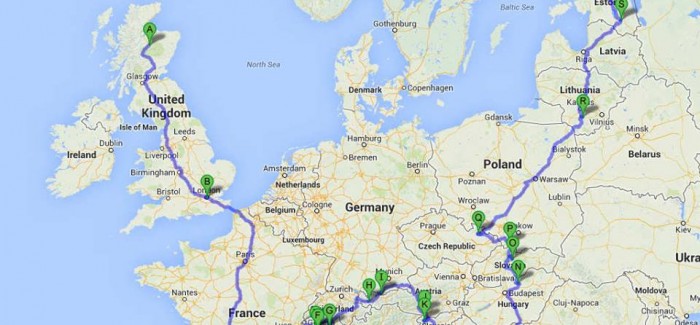 On the 1st of March Jamie Stevenson is setting off in an attempt to ski in 20 different countries in a month.  He is hoping to achieve a new Guinness World Record. 
The current 'Most Countries Skied in One Calendar Month' record is 15 countries. 
Jamie Stevenson is hoping to raise money for Disability Snowsport Scotland, an extremely worthwhile charity which provides opportunities for disabled children, youths and adults to enjoy skiing and other snowsports in Scotland.
28-year-old Jamie is a specialist when it comes to selecting resorts – he currently works as a sales consultant for the Scottish-based ski tour operator, Ski Independence.  He first learned to ski when he was just six years old, and is a qualified ski instructor.
Jamie's challenge begins in the Cairngorms in Northern Scotland on the morning of 1 March before heading down into Europe and finishing in Southern Norway in the Kongsberg-Skisenter.
These are the resorts he's selected for his challenge: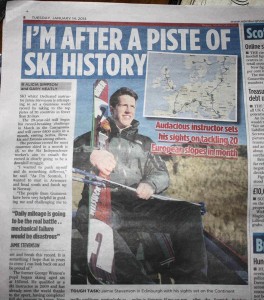 1.   Ski Scotland          Cairngorms
2.   Ski Spain               Baqueira Beret
3.   Ski Andorra           Grandvalira
4.   Ski France             Chamonix
5.   Ski Italy                  Courmayeur
6.   Ski Switzerland      Zermatt
7.   Ski Austria             St Anton
8.   Ski Germany          Garmisch-Partenkirchen
9.   Ski Slovenia           Žičnice Vogel
10.   Ski Serbia            Stara Planina
11.   Ski Bulgaria          Bansko
12.   Ski Hungary          Mátraszentistván
13.   Ski Slovakia          Jasna
14.   Ski Poland            Pilsko
15.   Ski Czech Republic – Malá Morávka – Karlov
16.   Ski Lithuania        Birstonas
17.   Ski Estonia           Otepää
18.   Ski Finland           Messilä
19.   Ski Sweden          Romme Alpin
20.   Ski Norway           Kongsberg Skisenter
Jamie's route will take him over 6,500 miles.  You can see a more detailed map of his journey below.
He's hoping to raise £250 per country – that's £125 for Snowsport Scotland, and £125 to help fund the challenge.  If you would like to sponsor him, just click on his Ski World Record Just Giving page HERE.
Once he set off, FamilySkiNews.com will be giving him our full support, following his blog and reporting on his progress here on a regular basis.  In the meantime, we wish him lots of luck in all his preparations for this epic task.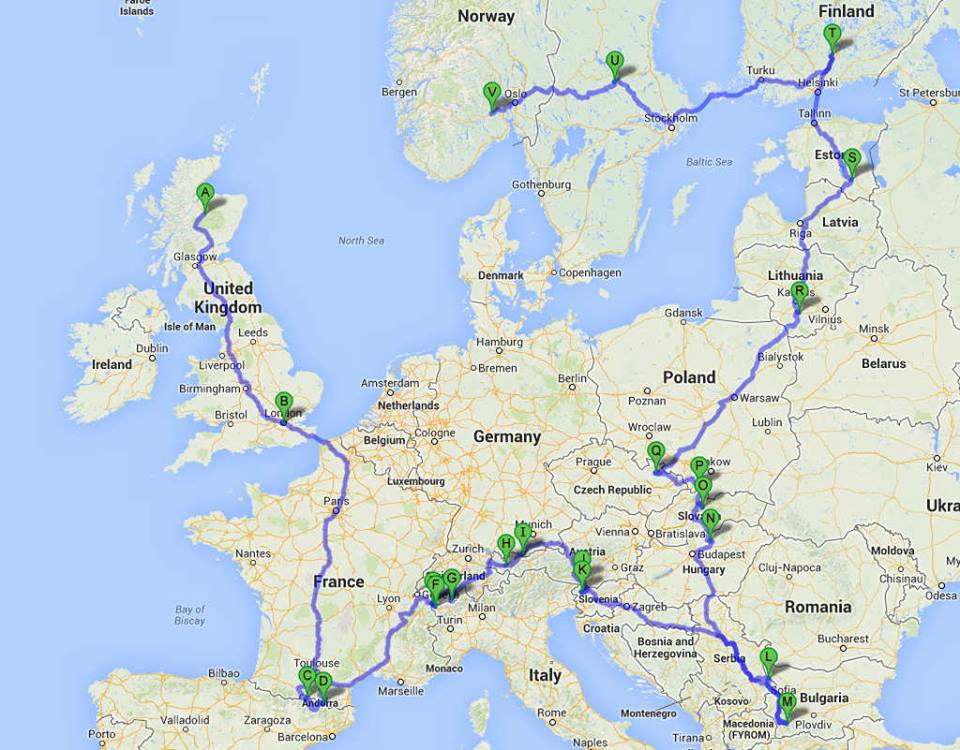 [All images from Jamie's Skiing World Record Facebook page]