Soupe de Chalet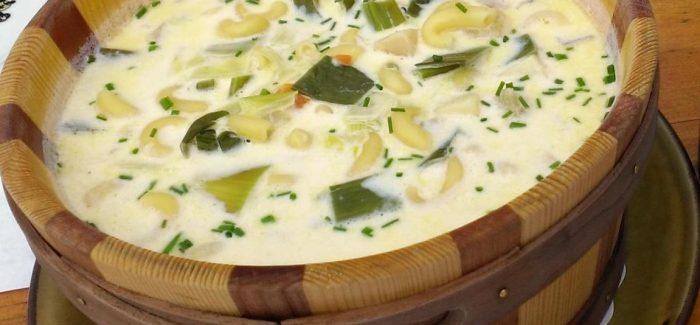 In this cold, snowy winter, what could be better than a hearty soup – Soupe de Chalet – an all-in-one meal-in-a-bowl, perfect for lunch or supper on or off the slopes. You probably have most of the ingredients in your larder already.  Soupe de Chalet originates from Switzerland and, served with a hunk of crusty bread, constitutes an entire meal in itself.
This hearty and nourishing Swiss alpine soup was traditionally prepared by shepherds in alpine chalets during the high pasture grazing season in the region of Gruyères, back in the day when they had no possibility of obtaining fresh vegetables except what the mountain yielded.  It comprised mostly milk, potatoes and tender tubes of macaroni, enriched with cream and Gruyère cheese, with added wild mountain herbs and nettles.  Our version, however, uses spinach rather than nettles, and adds some seasonal root vegetables.
INGREDIENTS (serves 6)
1oz (24g) butter
5oz (150g) leeks, cut into fine rings
4oz (110g) carrots, peeled and diced
4oz (110g) turnips, peeled and diced
12oz (350g) red potatoes, peeled and diced
1 pint (570ml) milk
1 vegetable stock cube
2oz (50g) baby leaf spinach, roughly chopped (or nettles)
3oz (75g) Gruyère, roughly grated
200ml tub crème fraîche
chives, finely chopped, to garnish
salt and freshly ground black pepper


METHOD
1 Melt the butter in a large pan.  Add leeks, carrots and turnips and cook over a low heat for 10 minutes, until slightly softened, stirring occasionally.
2 Add the potatoes and cook for a further 3 minutes.
3 Pour in 1 pint (570ml) of water and the milk, then add the stock cube.  Season with salt and pepper.  Bring to the boil and skim off any milky scum that comes to the surface.
4 Add the macaroni and boil for 15-18 minutes, or until the pasta is cooked and tender, stirring occasionally to make sure nothing sticks to the bottom of the pan.
5 Increase the heat to high.  Add the spinach and stir for 1 minute, until wilted.  Remove from the heat.
6 Mix the grated Gruyère and the crème fraiche together in a small bowl.  Add the mixture to the soup, stirring continuously until the cheese has melted.  Season, garnish with chopped chives, and serve with crusty bread.
Footnote 1: mix the soup well as you serve it, as the gooey cheese (the best bit!) has a tendency to sink to the bottom of the pan.
Footnote 2: You can make the soup a day or two in advance, but don't add the cheese or crème fraiche.  Cool and transfer to a lidded container, then refrigerate.  On the day, pour the soup into a saucepan and reheat for 10 minutes over a medium heat, until piping hot.  Remove from the heat, then add the cheese and crème fraiche and stir until melted.
Other similar dishes: For another hearty alpine soup, check out our recipe for Zuppa Valdostana, the Italian equivalent of Soupe de Chalet, using Fontina cheese and vegetables.  For alpine pasta dishes, see our Alpine Ravioli dish, originating in the mountains of Ischgl in the Austrian Tirol; or our Älplermagronen (Herdsmens' Macaroni cheese) recipe, delicious served the traditional way with crispy onions and lightly-spiced Apfelmus (apple sauce).
You can find these and other recipes in the Alpine Cuisine section of the FamilySkiNews website by clicking HERE.