Family friendly Arc 1950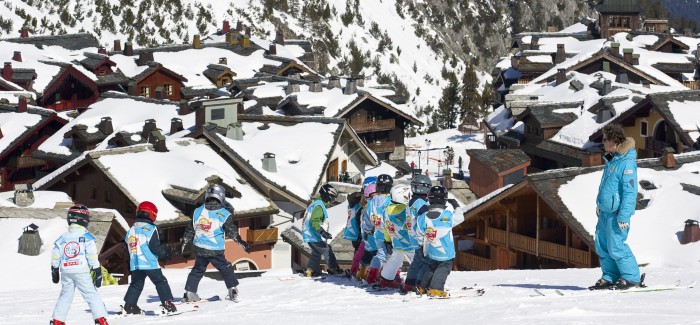 Our roving alpine reporter Briony Key continues her quest to find the most family-friendly resorts in the Alps. This month she's in France, in the celebrated Savoyard  resort of Les Arcs and, in particular, to Arc 1950.  Here's how she got on:
Finding your way around a ski resort can be a total faff with a young family, with the ski hire at one end of the town, lift passes at the other end and the food shop – all the way back where you just came from! For those who can relate too well to the above statement, let me introduce Arc 1950.
It's just 12 years old – Europe's youngest ski village – but nothing about the place is adolescent.
Architects have created an infrastructure that places apartments and chalets around a car-free village centre, with nothing more than five minutes away from your base, or a stunning view of Mont Blanc.
Ski hire, sports shops, cafés and restaurants, can all be accessed on skis, and ski-in-ski-out accommodation is a great time- and energy-saver when you're trying to encourage tots on to the slopes.
What's appealing

Arc 1950 is small (750 apartments) and obviously purpose built; yet its traditional-look style makes it feel like it's been there much longer. It's designed to hug the side of the mountain and its investors and traders are also keen to keep its community close.
You'll be greeted with a friendly hello as you walk though the streets, and find the bar man might well remember your drink if you show back up for a second tipple. My friend and I found it more like a village than a holiday resort, and met a few investors (many British). They told us they returned regularly, and invited us to join their warm and welcoming community.
Shopping can also be ordered prior to arrival and delivered directly to your apartment.
The service at hire shop, Precision Ski could also not be faulted when I checked in, with friendly staff carefully checking my level, and what I needed, and then even carrying my skis and poles to the shop door for me to head out on to the slopes.
Playtime
If you don't do your homework, taking children on a ski holiday can be anything but a vacation, but Arc 1950 is set up to make everyone's stay a good break.
Reception staff will help with collecting apartment keys, lift passes … and sometimes ski equipment.
There's igloos and bouncy structures in the village, and family-friendly films shown from 2-4pm to keep children safe and happy while parents deal with check-ins.
Baby kits are available in each residence (folding cots, fitted sheets, high chairs, changing mats, strollers and safety gates can all be reserved).
Once you're checked in (and you can pre-book in advance), there's plenty of entertainment, with the P'tit Cariboo Club taking children from nine months to three years for half or full days so parents can also have some playtime. The Cariboo Club keeps three to 13-year-olds busy with action-packed days discovering the mountain with fun events from 8.30am to 6pm.
Ski-time

Some areas in the village have been especially adapted for little ones to start skiing in a safe and fun environment.
Spirit ski school, run by Evolution 2 and based in the village, provides English-speaking lessons in small groups for chidren (and adults) of all levels and ages. Spirit have special packages for kiddies learning to ski from as young as three (with special groups for 3s and 4 year-olds), who can then directly join the caribou club for lunch and afternoon childcare, so you can spend the whole day on the snow without having to return to ski school after morning lessons.  
Experienced young skiers can also try the Back Country Course, where they will try freestyle (on the piste and in the snow park), freeride and racing.
Arc 1950 is also the youngest of four purpose-built ski villages within Les Arcs, together with Arc 1600, Arc 1800 and Arc 2000. Peisey-Vallandry and Villaroger are also included in this area.
The combined 425kms of piste of the Les Arcs resorts are also linked to Peisey-Vallandry and La Plagne to form the Paradiski area – the second largest ski area in the world, situated amidst the stunning Vanoise National Park.
The high slopes guarantee good snow cover, with a range of groomed and ungroomed pistes and picturesque forest runs, which are especially ideal if there is cloud cover on the upper slopes.
Top skiers love the off-piste here, there's plenty of challenging runs for intermediates and also lots of opportunity for beginners to progress on the wide but not too busy slopes.  It's also a free riders treat, with a good terrain park and lots of wide, rolling slopes for intermediates/beginners boarders. 
Other activities
Each of Arc 1950's apartments has access to wellness facilities, including indoor and outdoor swimming pools, saunas and Turkish baths, but it's also worth treating yourself to the Deep Nature Spa overlooking Mont Blanc – an ideal end-of-day treat that includes a Turkish Bath, themed grottos (including ice and volcanic) and pools with all the jets and currents that you need to ease your ski muscles.
Sports fanatics might like to try their hand at skijoering (getting pulled along behind a horse whilst on skis at crazy speeds, see our previous feature on the sport HERE), or stick to safer, slower options such as tobogganing and skidooing here. Less-active holiday-makers might prefer a bird's-eye view of the place with a helicopter ride!
The resort has an indoor events programme in case of bad weather, and offers a range of additional activities during the school holidays, such as a Kids Ball and night slalom competitions.  Those with older children (or baby sitters) will also be pleased to here there is a good live music scene at La Belle Pinte Irish pub, and great DJs at Le Club 1950. You can also opt for Romance Week, Savoie Week, Spring Celebrations and Comedy Week, to name but a few of the special events planned this year.
And don't forget the food and nightlife options. George's Wine Bar does a rocking karaoke night; we gave La Table Des Lys five stars for great wining and dining; and Les Chalets de l'Arc, with its super-fresh, locally sourced produce and home-baked bread to die for, made a lovely lunch time stop on the slopes for my birthday!
You can find out more about the resort of Arc 1950 at their website by clicking HERE.
For accommodation, Erna Low offer seven nights in P&V Residence Le Village Arc 1950 from £324 including flights and shared transfers (www.ernalow.co.uk 020 7584 2841).
Other related posts:
Our annual ski holiday in Adelboden
Half-term in Montgenevre
Half-term in Le Grand Bornand
A ski holiday without snow