Are you ski-fit?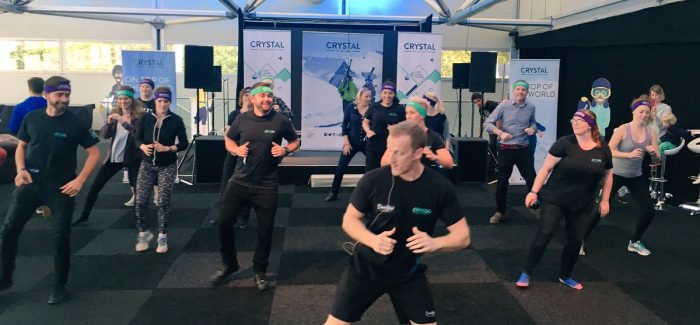 You've all heard of apre-ski, but what about pre-ski? 
This year's latest craze, Slopercise, gives a whole new meaning to pre-ski – it's an exercise programme for novice or expert skiers alike, devised by Crystal Ski Holidays in association with David Lloyds Clubs, to increase ski fitness before you hit the slopes.   And, let's face it, you really can't put it off much longer… now is the ideal time to get started on some Slopercise prior to your Easter ski break. 
According to the pros, Slopercise is a carefully-formulated programme, which provides notable progression in your fitness.  What's more, each move is inspired by elements of downhill, snowboarding, cross country skiing and après-ski to get all the family ski-fit before they even reach the snow.  The FamilySkiNews editor attended the launch of Slopercise earlier in the season (see image above).  Here are some of her moves for you to try at home:
'Mogul Ski Hop': This exercise is all about lateral steps and small hops will prepare you for when you come across moguls. Lateral movements improve strength, stability and coordination. They also help reduce the risk of injury by enhancing and improving overall hip, knee and ankle joint stability. Particularly relevant for skiers and snowboarders as they frequently change direction and pivot.
'Powder Snow Pole Pull': Everyone comes a cropper when skiing off-piste and getting up out of deep powder can be tricky. This exercise will build strength in the back, arm, shoulder and stomach muscles. Starting in the press up position, using a dumbbell or equivalent lift the weight to the body whilst supporting with the other hand on the floor.
'Ski lift sideways shuffle': This move is essential for anyone wanting to head towards the ski lift with style and panache – meaning you can get ahead of the queue every time. This exercise will strengthen the glutes on the sides of your pelvis, the glute meds, increasing leg strength and in turn stabilising the pelvis. Position a resistance band just below your knees, maintain an upright position, take a step to the right, stepping on your heel and not your toes. Then slowly bring your left leg toward your right, pushing against the pull of the band. Returning to the starting position. Repeat this five times to the right and then reverse stepping five times to left.
'Après-Ski Stein Squat': This move is particularly relevant to those skiing or snowboarding in Austria; it will help build arm and leg strength essential for lifting and placing steins of beer at the end of a busy day on the slopes. Start with a light dumbbell held to your chest with elbows
pointing down, lower your body into the squat position. Then extend your arms and then curl the weight back up into your chest before returning to the upright position. As well as helping with steins of beer this exercise builds muscles in your arms, shoulders and legs.
David Lloyd Clubs' members can also take advantage of Synrgy 360 Slopercise classes, available at selected clubs across the country. There are three classes for all the family to enjoy fun and functional winter holiday prep; Synrgy 360 Slopercise for adults and teens aged 14+, Synrgy 360 Slopercise for 11-15's, Synrgy 360 Slopercise Family for adults and kids aged 8+. The class is designed to prepare your body in advance for the demands of the slopes with an intense workout reducing injury risk and improving endurance on-piste. The sessions focus on improving leg symmetry for balance and control, flexibility around the ankle and hip joints for fluid movement, mid-line stability for stronger landings and lower body power and endurance. Non skiers and boarders are welcome to attend.
Slopercise video content: Exercise Disclaimer
This video content is not intended to be a substitute for professional advice, diagnosis, or treatment. Always consult a Physician or qualified health provider before you start performing any physical activity or any exercise programme. This video is provided for general use only and it is your responsibility to evaluate your own medical & physical condition & to
independently determine whether you have the capability and are safely able to perform, use or adapt any of the information or content in this video. Participation in any exercise programme may result in injury. By voluntarily undertaking any exercise included in this video, you assume the risk of any resulting injury.